HOME
BANTHAI TAKE OUT
THAIFOOD
RECIPES
THAI NEWS
NANA THAI MENU
YUMMI MENU
---
BanThai
Laugavegi 130 ofan viš Hlemm,
105 Reykjavik
Tel: 692-0564, 55-22-444,
e-mail : banthai@banthai.is

OPEN 18.00 - 22.00
viš notum
---
Við notum: Vel valið hráefni t.d.

-kjúklingabringur
-nauta fillet
-svína fillet
-Lamba fillet
-ferskt grænmeti
-gæða krydd (innflutt af okkur)
-litla olíu
-og fleira
Við notum ekki:

-MSG
-frosið grænmeti
-auka efni
-fitu af kjöti
-og fleira
Fyrir svona góšan mat į finum staš, skiptir bišin žį einhverju mįli ?
ĮVALLT ER GÓŠUR BITI BIŠARINNAR VIRŠI.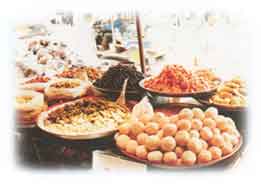 thai food
---
Khao Phad (Fried Rice)

Method
Heat the oil wok or pan, add the chicken and garlic, and mix well over the heat for 1 minute. Add the onion and cook for 1 minute, break in the eggs, mix very well, and then stir in the rice and the rest of the ingredients. Stir well. Cook for 2 minutes and serve immediately with cucumber slices and whole spring onions
Ingredients

3 tablespoons peanut or corn oil
7 oz / 200 g boneless skinned chicken breasts sliced
1 tablespoon chopped garlic
1 medium size onion, sliced
2 eggs
4 cups/ 1 3/4 lb /750 g cooked rice
1 tomato, cut into 8 wedges
1 spring onion (scallion), chopped
2 teaspoons white Soya sauce
1/2 teaspoon pepper corn
1 teaspoon fish sauce
1 teaspoon sugar
1 teaspoon ground white pepper

.

BanThai
BANTHAI IS FINEST THAI RESTAURANT IN ICELAND,
WHAT WE GOT ?
---
The best Thai food year 2009, 2010, 2011 and 2012.
Top Ten of the best restaurants in Iceland.
and many more...

HOLLYWOOD STARS THAT HAVE VISITED BANTHAI.
---
http://vefblod.visir.is/index.php?s=6289&p=136271
http://www.mbl.is/smartland/stars/2012/08/10/emma_watson_bordadi_a_ban_thai/
We are so proud that they have visited our restaurant.
Russell Crowe, Emma Watson, Jennifer Connelly, Douglas Booth,
Logan Lerman, Emma Watson, Anthony Hopkins, Kevin Durand and more...

T & D LTD., BANTHAI RESTAURANT NANA THAI RESTAURANT YUMMI YUMMI THAI TAKE AWAY