HOME
BANTHAI TAKE OUT
THAIFOOD
RECIPES
THAI NEWS
NANA THAI MENU
YUMMI MENU
---
BanThai
Laugavegi 130 ofan viš Hlemm,
105 Reykjavik
Tel: 692-0564, 55-22-444,
e-mail : banthai@banthai.is

OPEN 18.00 - 22.00
viš notum
---
Við notum: Vel valið hráefni t.d.

-kjúklingabringur
-nauta fillet
-svína fillet
-Lamba fillet
-ferskt grænmeti
-gæða krydd (innflutt af okkur)
-litla olíu
-og fleira
Við notum ekki:

-MSG
-frosið grænmeti
-auka efni
-fitu af kjöti
-og fleira
Fyrir svona góšan mat į finum staš, skiptir bišin žį einhverju mįli ?
ĮVALLT ER GÓŠUR BITI BIŠARINNAR VIRŠI.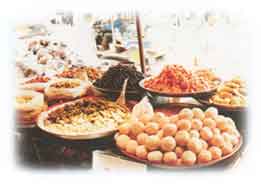 thai food
---
PAD PAK RUAM MIT
(mixed vegetable stir-fry)
Phat Phak Ruam Mit is easy to cook. Stir-fry vegetable and add soy sauce are all to do. Tips are using high heat and cook it quick. A wok (Chinese pan) with gas burner is will do better job than a flat pan.

INGREDIENTS
1½ cup cabbage, cut bite size
2 cups broccoli, cut bite-size
10 peeled carrot, sliced across
3 mushroom, halved
½ cup green and red bell chili, sliced lengthways
½ cup bean sprouts, clipped both ends
2 teaspoons chopped garlic
4 tablespoons cooking oil
1 tablespoon dark soy sauce
2 tablespoons light soy sauce
1 pinch ground pepper
1/2 teaspoons sugar

PREPARATION Fry garlic in hot oil until it turns yellow, then add cabbage, broccoli, carrot,, mushrooms, and chilies, Add dark soy sauce, light soy sauce ,sugar and bean sprouts and stir-fry until mixed well. Spoon up onto platter and add ground pepper.
.

BanThai
BANTHAI IS FINEST THAI RESTAURANT IN ICELAND,
WHAT WE GOT ?
---
The best Thai food year 2009, 2010, 2011 and 2012.
Top Ten of the best restaurants in Iceland.
and many more...

HOLLYWOOD STARS THAT HAVE VISITED BANTHAI.
---
http://vefblod.visir.is/index.php?s=6289&p=136271
http://www.mbl.is/smartland/stars/2012/08/10/emma_watson_bordadi_a_ban_thai/
We are so proud that they have visited our restaurant.
Russell Crowe, Emma Watson, Jennifer Connelly, Douglas Booth, Logan Lerman, Emma Watson, Anthony Hopkins, Kevin Durand and more...

T & D LTD., BANTHAI RESTAURANT NANA THAI RESTAURANT YUMMI YUMMI THAI TAKE AWAY