HOME
BANTHAI TAKE OUT
THAIFOOD
RECIPES
THAI NEWS
NANA THAI MENU
YUMMI MENU
---
BanThai
Laugavegi 130 ofan viš Hlemm,
105 Reykjavik
Tel: 692-0564, 55-22-444,
e-mail : banthai@banthai.is

OPEN 18.00 - 22.00
viš notum
---
Við notum: Vel valið hráefni t.d.

-kjúklingabringur
-nauta fillet
-svína fillet
-Lamba fillet
-ferskt grænmeti
-gæða krydd (innflutt af okkur)
-litla olíu
-og fleira
Við notum ekki:

-MSG
-frosið grænmeti
-auka efni
-fitu af kjöti
-og fleira
Fyrir svona góšan mat į finum staš, skiptir bišin žį einhverju mįli ?
ĮVALLT ER GÓŠUR BITI BIŠARINNAR VIRŠI.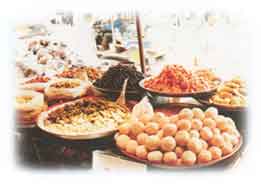 thai food
---
Som Tum (Papaya Salad)


This particular dish is from the northeastern part of Thailand (E-san). Combined with barbecue chicken, and sticky rice, it makes a perfect meal!

Ingredients:

1 fresh green papaya
5 Thai chilies (prik kee noo)
6 garlic cloves, coarsely chopped
2 medium sized tomatoes, sliced thinly
1/2 cup green beans cut into one inch lengths
2 teaspoons of fish sauce
1 quart cup of tamarind juice

Preparation:

Peel the skin off of the papaya, then use a cheese grater to shred the papaya. The seeds are not used! After you have finished, sprinkle some salt onto the shredded papaya, and let stand for 30 minutes

Directions:

Now you will need a mortar and pestle. (You can use a regular mixing bowl, but you just don't get the right effect.) Combine all of the ingredients except for the tomato into the mortar bowl and mix thoroughly. Then add the tomato and briefly mix (do not pulverize the tomato into liquid- you want it to be kinda' "bruised")
.

BanThai
BANTHAI IS FINEST THAI RESTAURANT IN ICELAND,
WHAT WE GOT ?
---
The best Thai food year 2009, 2010, 2011 and 2012.
Top Ten of the best restaurants in Iceland.
and many more...

HOLLYWOOD STARS THAT HAVE VISITED BANTHAI.
---
http://vefblod.visir.is/index.php?s=6289&p=136271
http://www.mbl.is/smartland/stars/2012/08/10/emma_watson_bordadi_a_ban_thai/
We are so proud that they have visited our restaurant.
Russell Crowe, Emma Watson, Jennifer Connelly, Douglas Booth, Logan Lerman, Emma Watson, Anthony Hopkins, Kevin Durand and more...

T & D LTD., BANTHAI RESTAURANT NANA THAI RESTAURANT YUMMI YUMMI THAI TAKE AWAY