HOME
BANTHAI TAKE OUT
THAIFOOD
RECIPES
THAI NEWS
NANA THAI MENU
YUMMI MENU
---
BanThai
Laugavegi 130 ofan viš Hlemm,
105 Reykjavik
Tel: 692-0564, 55-22-444,
e-mail : banthai@banthai.is

OPEN 18.00 - 22.00
viš notum
---
Við notum: Vel valið hráefni t.d.

-kjúklingabringur
-nauta fillet
-svína fillet
-Lamba fillet
-ferskt grænmeti
-gæða krydd (innflutt af okkur)
-litla olíu
-og fleira
Við notum ekki:

-MSG
-frosið grænmeti
-auka efni
-fitu af kjöti
-og fleira
Fyrir svona góšan mat į finum staš, skiptir bišin žį einhverju mįli ?
ĮVALLT ER GÓŠUR BITI BIŠARINNAR VIRŠI.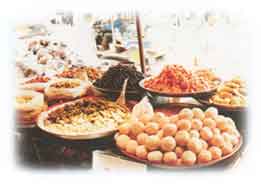 thai food
---
Spring Rolls

Makes approximately 18 - 24 spring rolls

Ingredients

1 Head Green Cabbage
6 oz. minced or ground Chicken (pre-cooked)
1 med. Carrot
2 med. stalks Celery
1 oz. sliced Mushrooms
1 tablespoon Oyster Sauce
1/4 teaspoon Salt
sprinkle Black Pepper
4 oz. Tempura powder mixed with water
1 package Spring Roll Skins


Technique


Begin by shredding the cabbage, carrots and celery. In a large wok over low heat add the vegetables. Mixed several times until the cabbage begins to soften. Add the other ingredients and toss well. When the vegetables have become wilted, place the mixture in a strainer. Place the stainer in a refrigerator. Allow to sit for 2 hours or until the mixture is cool to the touch.

Begin making the spring rolls by placing 2 oz. of the stuffing on a corner end of the spring roll skin. Fold the bottom forward and over the top. Roll 1 full turn. Tuck the sides in, while continuing to roll forward. Place a dab af the tempura mix on the tip of the skin. Roll over the tempura mix to seal it closed.

To cook, pre-heat vegetable oil to 350 degrees. Place several rolls in at a time. Fry until golden brow (2-3 min.) Serve with your favorite sauces.
.

BanThai
BANTHAI IS FINEST THAI RESTAURANT IN ICELAND,
WHAT WE GOT ?
---
The best Thai food year 2009, 2010, 2011 and 2012.
Top Ten of the best restaurants in Iceland.
and many more...

HOLLYWOOD STARS THAT HAVE VISITED BANTHAI.
---
http://vefblod.visir.is/index.php?s=6289&p=136271
http://www.mbl.is/smartland/stars/2012/08/10/emma_watson_bordadi_a_ban_thai/
We are so proud that they have visited our restaurant.
Russell Crowe, Emma Watson, Jennifer Connelly, Douglas Booth, Logan Lerman, Emma Watson, Anthony Hopkins, Kevin Durand and more...

T & D LTD., BANTHAI RESTAURANT NANA THAI RESTAURANT YUMMI YUMMI THAI TAKE AWAY