HOME
BANTHAI TAKE OUT
THAIFOOD
RECIPES
THAI NEWS
NANA THAI MENU
YUMMI MENU
---
BanThai
Laugavegi 130 ofan viš Hlemm,
105 Reykjavik
Tel: 692-0564, 55-22-444,
e-mail : banthai@banthai.is

OPEN 18.00 - 22.00
viš notum
---
Við notum: Vel valið hráefni t.d.

-kjúklingabringur
-nauta fillet
-svína fillet
-Lamba fillet
-ferskt grænmeti
-gæða krydd (innflutt af okkur)
-litla olíu
-og fleira
Við notum ekki:

-MSG
-frosið grænmeti
-auka efni
-fitu af kjöti
-og fleira
Fyrir svona góšan mat į finum staš, skiptir bišin žį einhverju mįli ?
ĮVALLT ER GÓŠUR BITI BIŠARINNAR VIRŠI.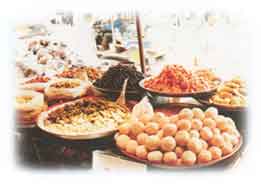 thai food
---
Tom Kha Kai Soup


Makes 4 servings

Ingredients

6 oz. Sliced White Chicken meat
6 oz. sliced White Onions
2-3 med pieces Galangals( Thai Ginger)
3 - 1" Slices of Lemon Grass
1 oz. chopped Green Onion
24 oz. water
1 package(2 oz.) Coconut Milk Concentrate
4oz. fresh Lime or Lemon Juice
4oz. Fish Sauce
1 tablespoon ground Red Chili


Technique

Start heating the water. Add 1 package coconut milk concentrate, Galanga Ginger and Lemon Grass. Add 6 oz. sliced chicken. Bring to a boil. After the soup has boiled for 2 minutes, add the White Onions and Mushrooms. In your serving bowl add the Lime Juice and Fish Sauce. Do not add this to the boiling soup! When the chicken in cooked, place the soup in the serving bowl with the sauces. Garnish with the Green Onions, spice to taste with red chili and serve.
.

BanThai
BANTHAI IS FINEST THAI RESTAURANT IN ICELAND,
WHAT WE GOT ?
---
The best Thai food year 2009, 2010, 2011 and 2012.
Top Ten of the best restaurants in Iceland.
and many more...

HOLLYWOOD STARS THAT HAVE VISITED BANTHAI.
---
http://vefblod.visir.is/index.php?s=6289&p=136271
http://www.mbl.is/smartland/stars/2012/08/10/emma_watson_bordadi_a_ban_thai/
We are so proud that they have visited our restaurant.
Russell Crowe, Emma Watson, Jennifer Connelly, Douglas Booth, Logan Lerman, Emma Watson, Anthony Hopkins, Kevin Durand and more...

T & D LTD., BANTHAI RESTAURANT NANA THAI RESTAURANT YUMMI YUMMI THAI TAKE AWAY